Everything is on hold due to the pandemic. I have decided not to Zoom and it is not yet clear when we will resume.
Street Choirs Festival June 2018
A WONDERFUL performance at The Brighton Dome. Who'd have thought this could arise from our Thursday and Friday morning fun?!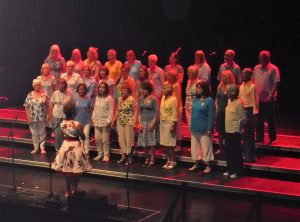 Advent Beach Huts 2017
A cold, wet and windy day deterred only a few, and most of you kept the faith and turned up, as per usual, on a deserted seafront. We were rewarded with a break in the weather and had another rousing sing. Thank you, you are marvellous!
The Dawn Chorus Summer Party 2017
Another great affair, thanks to your spirit of fun and adventure, helped by a gorgeous summer's day.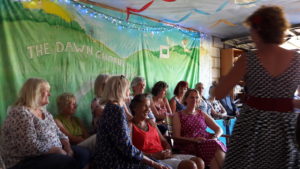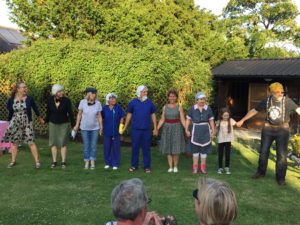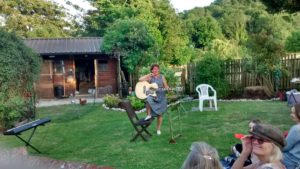 Spring 2017 Singing at the Emmaus Fair in Portslade to Celebrate 20 years of this excellent local charity
We had a beautiful Spring day, a wonderful turnout and a receptive and encouraging audience – ingredients for a lovely day.
Christmas 2016 Singing at the Advent Beach Huts on Hove Seafront
Another fabulous sing. The array of Christmas hats gets ever more elaborate, this year seeing voice-activated LED lights sewn into a Christmas hat! As well as our now usual Christmas songs, we sang Hail Smiling Morn and The Angel Gabriel. The occasion is made possible by Cathy Watts, Martin Poole and everyone's spirit of fun, choir and audience. Thank you! And we raised £100 for Cure Clubfoot.
Christmas 2015 Singing at the Advent Beach Huts on Hove Seafront
Thanks to Cathy Watts, owner of beach hut 332 and Martin Poole of Beyond, we were the 'creative, festive surprise' behind door 11 of the Advent Beach Huts this year. We sang Tourdion, Here We Come a-Wassailing, Star of Wonder and May Your Cup and 

collected money for Cure Clubfoot. Great fun, thank you everyone who took part and our audience. 

Here is Cathy's sparkly beach hut. For more pictures of the evening, have a look at our Facebook page.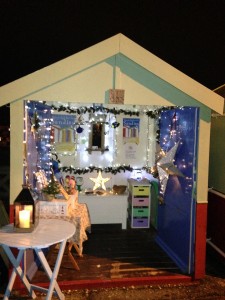 Shoreham Farmers' Market busk July 2015
Our 3rd year busking at the amazing Farmers' Market in Shoreham. The sun shone and the singing was wonderful! There is a video on our FB page.
The Dawn Chorus Summer Party at Tortington Priory Barn, June 2015
What a lovely day was had by all! Thanks to Cathy for allowing us to have our party in her beautiful home and it was lovely to fill the barn with the Blue Moon – a long way from what the Augustinian monks or the farmers may have sung. See FB for some pictures of the day.
The Dawn Chorus is Beach Hut 332's 'festive surprise' Dec 2014
Once again, a wonderful sing outside Beach Hut 332, raising money for CUREclubfoot as part of the annual Advent Beach Huts on Hove promenade.  What a great turnout despite the wind, with some of you from as far as Worthing! We sang The Copper's Christmas Song, Gaudete, Gaudeamus hodie and others, followed by mulled wine and mince pies. There are some videos capturing the lovely atmosphere on Facebook. Thank you to everyone who came.
Busking in Shoreham High Street

Singing in Shoreham High Street to raise money for SOLD – Shoreham Opportunities for people with Learning Difficulties before heading to The Beach House for a fabulous Christmas lunch.
Shoreham Farmers' Market Busk July 2014
For the second year, we busked at the Farmer's Market in Shoreham. We sang Da Doo Ron Ron, I Stand Tall, Great Day and It's a Wonderful Life. We received many positive comments about the lovely sound we made and the fun we seemed to be having!
Celebrating 150 years of the Brighton to Seaford train line June 2014
The Dawn Chorus sang several train-related songs as part of these celebrations up and down the line, including the beautiful folk ballad 10,000 Miles and Curtis Mayfield's People Get Ready. Joined by choir members Linden and Stuart and the Brighton Acoustic Jammers, the crowd joined in with our finale, This Train is Bound for Glory. It was a wonderful sunny morning and a lovely atmosphere.
The Dawn Chorus at The Advent Beach Hut Surprise 2013 
We were invited by St Luke's Church to sing at the annual Advent Beach Hut Surprise on Brighton and Hove seafront. We sang at Cathy Watt's beautiful beach hut, decorated with Christmas whimsy and supporting her charity CURE.org. It was a chilly evening but we thoroughly enjoyed singing Dona Nobis Pacem, a Gloucestershire Wassail and a few carols. Thank you to everyone who came and sang, and to friends and family for their warm support, and mulled wine.

The Dawn Chorus at Sand Dance 2013
On Saturday 21st Sept we were invited to celebrate the Autumn equinox and sing on Shoreham Beach for the annual Sand Dance. At this time of year the tide is at its lowest and the sand is revealed. As it was also World Peace Day we sang a new song "Peace in Our Time" by Nick Prater.  Thank you to everyone who came and sang, and to friends and family for their wonderful support, and to the Shoreham Herald for a great write up.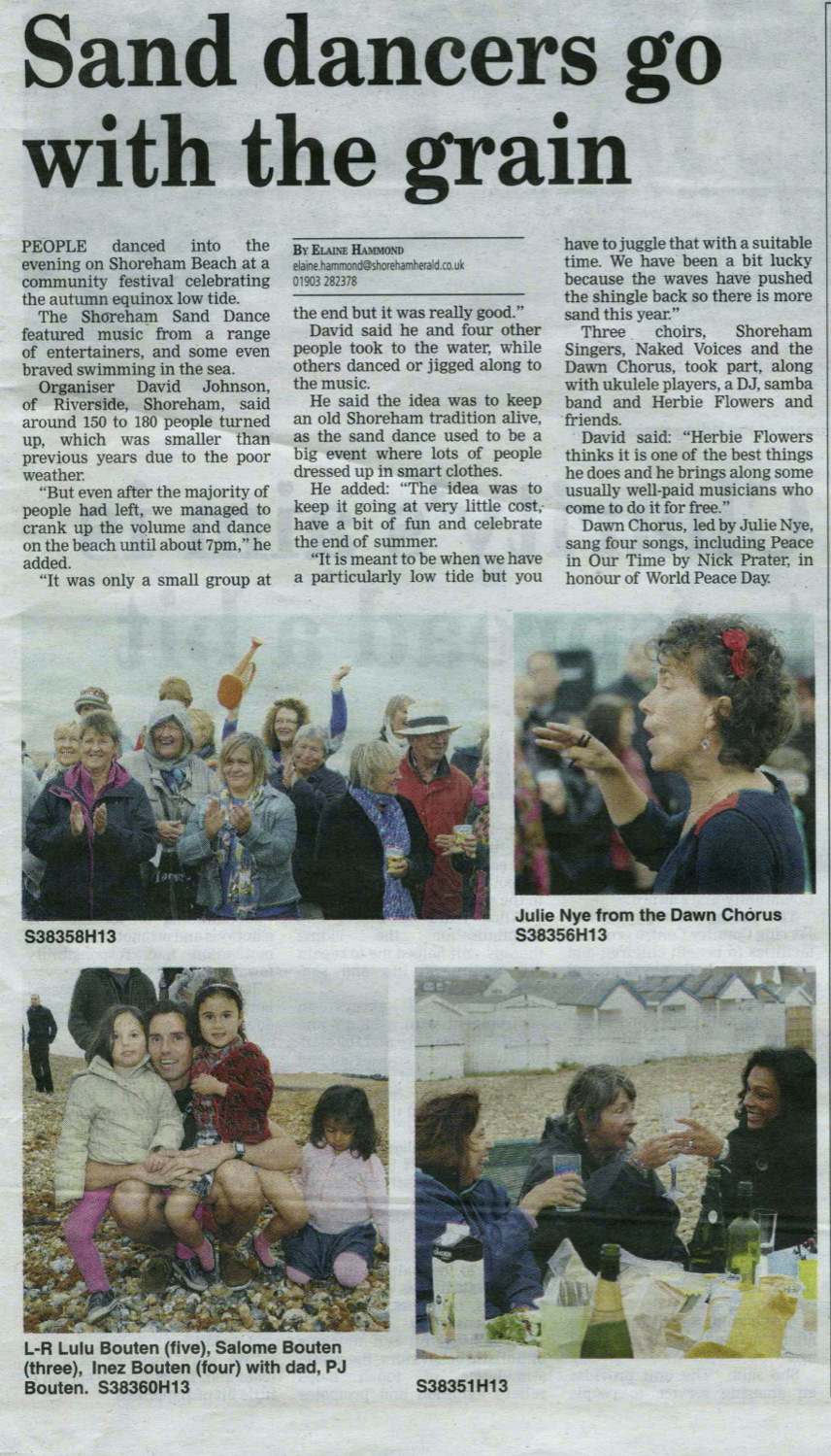 Shoreham Farmers Market
Our debut busk took place at Shoreham Farmer's Market on 13th July 2013 and was a huge success. Thank you to everyone for bringing your best voices, and helping us all enjoy a wonderful day.